3 Design solutions, that can make Retail Stores Safer in a Post Covid world!
The world is emerging out of the Pandemic that has become an overwhelming reality for every global citizen today. This new world has a new normal, retailers are dealing with a new challenge a new found focus on hygiene! As product designers it's our duty to look forward , to help our partners adapt to change faster and make this transition easier, so during the lock down we have designed 3 solutions that can create safer retail environments.
Bacteria Free shelves
Over 70% of time spent in a retail store is at the racks, where shoppers interact with the merchandise and in doing so are in physical contact with the shelves that hold the merchandise, so our design focus was to create shelves which are made of materials that are bacteria free, so we did just that! Collaborated and created shelves from a special material that is resistant to 90% of bacteria. These are live at our display center in Mumbai, for you to see and understand in greater depth.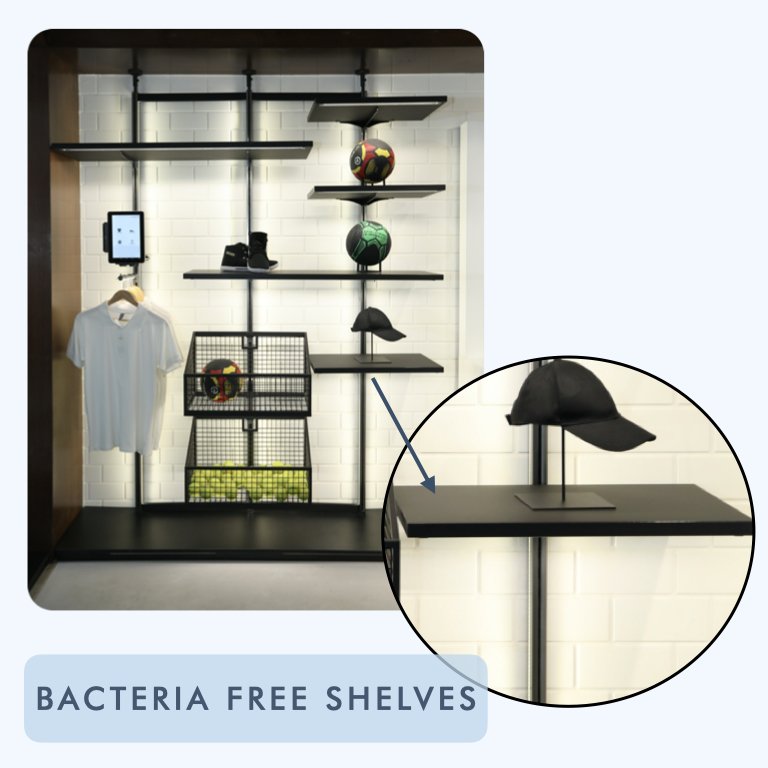 Contact less shopping
The COVID-19 pandemic has made consumers extremely aware of what they come in contact with. With the Coronavirus, the idea of contact less shopping and payments has taken over. The practice of contactless retail has been around for long enough in a variety of forms, but in the face of the COVID-19 virus, it is becoming an integral and necessary part of retail culture.
In line with this, INSYNC envisioned the ability to integrate Endless Aisle technology and Self Checkout solution designed to make your shopping experience quick and efficient, reducing contact on the items you're purchasing as well as possible queuing times.
Simply scan the QR Code and complete the payment – it's that easy!
Agile POP Up
Retail cannot survive without constant growth and that needs a high infusion of capital. Now the reality is that we might need to rethink our customer interactions and might need to optimise our available capital and reduce our risk without reducing growth.
So we have created shop fittings that are capable of creating quick and easy pop up stores, they are powered and don't need support of ceiling mounted lights which can pop up a store in areas that were simply not possible before. These solutions can create temporary stores and also are easy to install, re install and relocate.
This way retailers can create more stores during the peak seasons and capitalise by having more visibility, more locations and more sales within optimised budgets.
We have created a mock up of this at our Experience Center and can help your team create a solution that fits your specific needs.
So in line with our mission to Empower the future of retail, we have used our lock down time to help retailers bounce forward into a better, safer and more profitable future.