INSYNC WALL OF FAME
Experience Centres in
India, Middle East & USA
Years Heritage In
Retail Solutions
Support Team Servicing
Layout to Fitout
Standardised Shop
Fitting Components

"We're Restaging retail to be Insync with the SMART Shopper, by Transforming Shops Into SMART Shops"
A MODULAR APPROACH TO BUSINESS
We design award winning shop fitting solutions so that you can design spaces that are exciting for the shoppers, make product exploration fun and brand engagement more meaningful.
Like the solutions we design, our approach to business is also flexible and designed to be modular!
We have created 2 business verticals
SHOP FITTING TECHNOLOGY
Our shop fitting and technology development and distribution vertical is invested deeply into the research and development of next gen shop fittings and technology solutions
CUSTOM FIXTURES
While our custom design and build vertical is envisaged to provide bespoke and unique solutions either from the ground up or using our shop fittings and creating custom skins around them to tailor the solutions to your needs.

RETAILERS & RETAIL DESIGNERS
Get the best of both worlds, the convenience, reliability & technical superiority of our standard shop fittings Insync with custom fixtures and skins to create their own unique flavour of retail design

SHOP FITTERS, JOINERIES AND OUR PARTNERS
Could choose to integrate our components and technology and create their own custom solutions for their customers without having to concern themselves with the development & engineering of the shop fitting system.

A BRIGHT FUTURE ROOTED IN HERITAGE
Founded by Saleem Merchant in 1991, Safe Enterprises is India's first organized shop fittings manufacturer; engaged in standardising and empowering the country's retail revolution.
To channelize the knowledge accumulated since 1991, during the retail fit-outs of over 42,000 projects spanning an estimated 30 million sq. ft. into ready-to-use shop fitting solutions, INSYNC was founded by Huzefa Merchant in 2010, as the research, product development and distribution wing of Safe Enterprises.
The INSYNC vision is to create a globally distributed shop fittings solution, which is ingrained into every facet of the design and development, of both products and methodologies.
INSYNC has since transitioned into the official face of the company and stands true to its future vision while bolstering its heritage and knowledge base.
3000
Shop Fitting Components
WHY INSYNC?
We innovate, so that you create a future inspired by intelligence and build stores In-sync with your shoppers.
At INSYNC, we work in collaboration with retail design studios, interior designers, visual merchandisers as well as Brands and retailers to transform shops into smart shops to be in sync with today's smart shoppers.
INSYNC creates shop fitting systems that are engineered using over
5000 hrs of research and 15000 hrs of development.
Creating a comprehensive range of over 3000 Shop fitting components catalogued into 9 product lines.
Our electrified Shopfittings integrate led lights, IoT, AI and digital screens all together to reimagine the future of retail.
RECOGNITION FOR
THOUGHT LEADERSHIP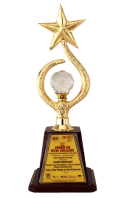 Young Achiever Award 2020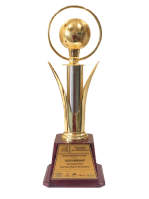 Young Achievers Golden Globe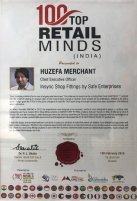 100 Top Retail Minds Award
MANAGEMENT TEAM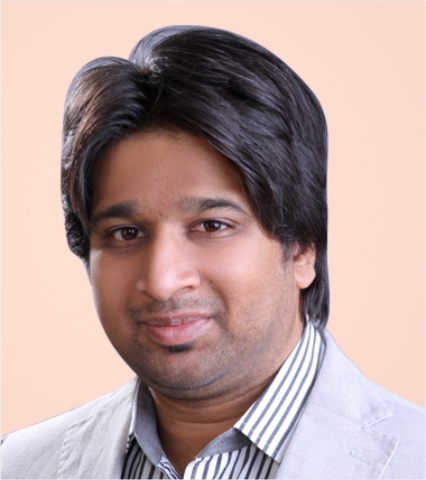 HUZEFA MERCHANT
Founder, Insync Shop Fittings
Partner, Strategic Alliances Safe Enterprises.
"
IT TAKES VISION TO RUN A BUSINESS NOT EYESIGHT
"
Is what you'll hear Huzefa chime, if you ask how he manages a design centric business, despite being partially sighted!
In 2018, 2019 & 2020 ; 3 years on A trot, Asia Retail Congress titled him as 1 of the Top 100 most influential retail minds in India and he was awarded the Young Achiever's Title at the Golden globe Tigers in 2018 at Kuala Lumpur – Malaysia.
Huzefa is a regular motivational speaker for the NAB, ETC & IIBM besides guiding young retail minds at NID Bangalore and Raffles Design School. He believes strongly in the Indian Retail model and is leading the transformation of Indian retail into the digital age through workshops and conferences held in conjunction with VM&RD, IFF & Franchise India and other leading platforms. At the age of 35, he holds over 10 design copyrights and multiple pending patents to his name.
His brain child, The Fit N Light SMART Shop Fitting solution that empowers physical retail with digital capabilities, has been honoured by the Times Network as the Most Innovative Retail Solution and has also won the Best Shop Fitting at the Golden Globe Tigers in 2018 at Kuala Lumpur – Malaysia.
In 2010 Huzefa founded INSYNC India's only Shop Fittings brand that design and develop standardized shop fitting components, to support this endeavour and to bring this solution to the aspiring Indian retailer INSYNC founded a chain of experience centres. INSYNC have ten operational Experience centre's across India, the Middle East and USA.
Under his stewardship Safe Enterprises has won the Best MSME award for Excellence in Quality 2 years running and Huzefa is now obsessed with the vision to take Indian innovation to the world, through INSYNC
RECOGNITION FOR
EXCELLENCE & INNOVATION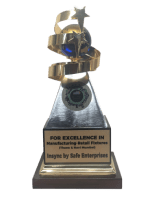 City Icon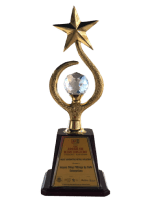 Most Innovative Retail by ET NOW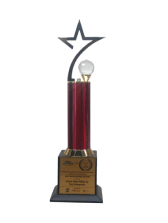 Most Innovative Times Network Award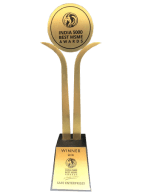 MSME 2018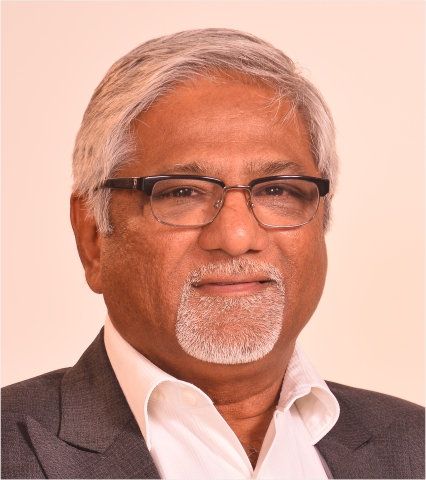 SALEEM MERCHANT
Founding Partner, Safe Enterprises
Saleem Merchant is a pioneer who accelerated the retail revolution in India, by developing the country's first shop fitting System. 'The Grid' Safe Enterprises was founded in 1991 by Maverick entrepreneur and visionary Saleem Merchant. Safe's innovative modular shop fitting solutions propelled the brand as a key link in the supply chain of modern retailers.
Under the stewardship of Saleem Merchant, Safe Enterprise has executed 42,000+ projects over an estimated 30million+ sq. ft. of retail space across the country. Backed by over two decades of experience in manufacturing engineered retail products, Saleem Merchant continues to empower the Future of Retail.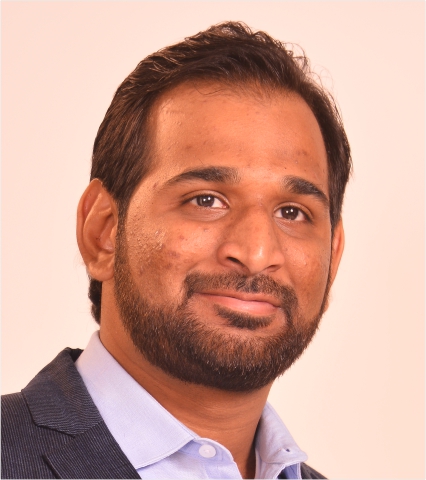 MIKDAD MERCHANT
Partner, Safe Enterprises
A CA by profession and an expert in processes and IT technology, the group's youngest partner Mikdad brings agility to the team, powering the growth aspirations of the organization.
Crafting, refining and redefining the processes, information flow and ensuring both the personnel and infrastructure are always geared to meet any challenges put forth by market changes, or the companies' own growth aspirations, are Mikdad's mandates.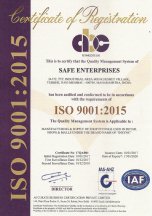 ISO 9001:2005 For Quality Management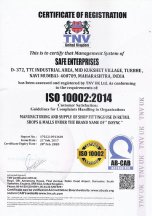 ISO-10002:2014 For Customer Satisfaction &
Complaints handling in Organization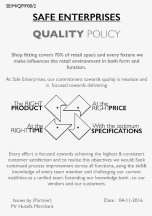 QUALITY POLICY
CORE TEAM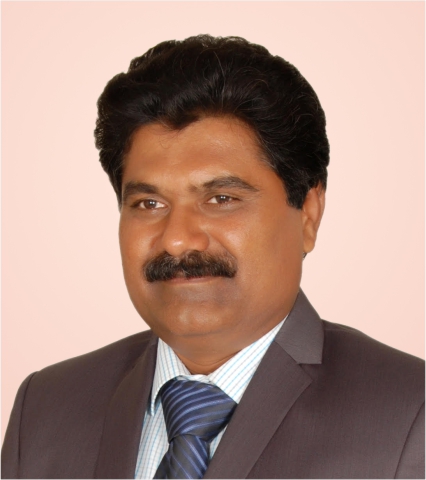 SATISH WABLE
General Manager, Operations & Sourcing
Satish was the first employee hired on the INSYNC team. He has since led the team with distinction, and has lent his years of experience and hands-on knowledge as an engineer, with a working knowledge of the general and special manufacturing processes.
The know-how of manufacturing operations with general purpose machines, SPM's, CNC machines and machining centres, has greatly influenced INSYNC's design endeavours.
His experience with Safe Enterprises along with his training at Kirloskar Toyota and quality leaders like Greaves and Bharat Forge, have greatly influenced the structure and processes that give INSYNC products their edge.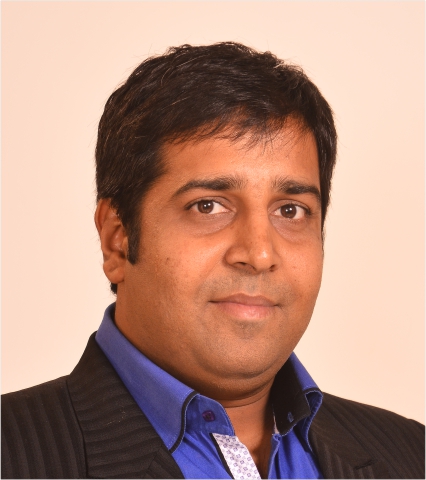 SAIFUDDIN RATLAMWALA
General Manager
Saify brings to Safe his rich experience of working across multiple profiles spread across three diverse cultures, viz. India, the Middle East and China. He has spent eight years in China, creating a multi-channel supply chain, working and gaining insights into their manufacturing processes and work culture.
On taking the helm at Safe's Mumbai plant he's been successful in using this know-how to improve both the operational efficiency of the shop floor, increasing the productivity of the work force and improving manufacturing efficiencies by over 40%. His experience in sourcing vendor development and an understanding of customer relationships, gives the Safe Project team an unmatched depth.
RECOGNITION FOR
CUSTOMER SERVICE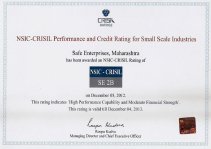 NSIC CRISIL
PERFORMANCE CREDIT RATING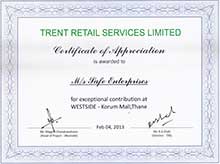 Certificate of Appreciation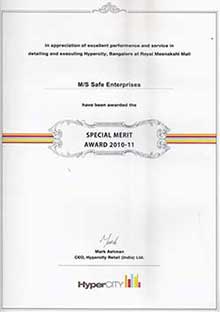 Special Merit by Hypercity
VIEWS ON INSYNC
We were first introduced to Safe Enterprises through one of our brand INMARK. All the central furniture and panel wall were supported and manufactured by Safe Enterprises. Personally, I was really impressed with the quality, the end product, the prices, and the attention to the smallest detailing in the packing of the shipment. The idea they provided was really smart and really did compete with European standards. Based on our past experience with them, we introduced a different brand and a complete set of panel walls and we've already placed an order, which has been shipped to 5 new stores. Someone would think this is really a gamble, but for us it's a matter of trust in their quality. I have been to their manufacturing unit and seen the samples and all their different models and it's really, really impressive.
See On Youtube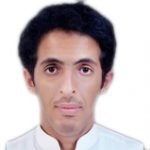 We are based in US and speaking at instore Asia, It's great to visit the Insync Booth. It's great to see quality & innovation come together within one roof and I am really impressed with the continued innovation and progress of the company in making world class products.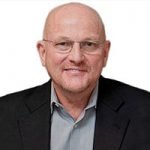 Integration of technologies in store solutions is inevitable today For example,  in the context of store fixtures, when they are integrated with the smart technologies, they can actually help in efficient inventory management. SAFE was an early adopter of technology and they have definitely been ahead of the curve.